Tech Train Steam Manual
The Steam Manual was first published in 1996. The second edition was released in 2012 and has 410 Pages and is full of color illustrations.
The manual covers all the information that a needs to know about maintaining and servicing steam cooking equipment. Everything is explained in an easy to understand format, with practicality in mind, in order to understand the subject matter. At the end of each chapter are review questions to ensure that you understand the subject matter. Answers to the questions are in the back of the book.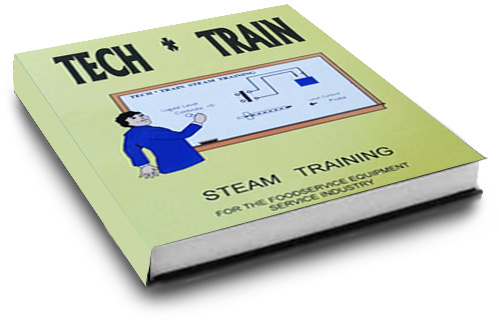 Steam Basics
Cooking With Steam
Boilers
Water Quality
Corrosion
Boiler Maintenance
Water Treatment
Air Vents
Steam Traps
Pressure Relief Valves
Steam Pressure Regulators
Sight Glasses
Pressure Gauges
Water Level Controls
Pressure Controls
Steam Piping
Steam Valves
Electric Heaters
Steam Tables
Pressure Steamers
Convection Steamers
Steam Kettles
Combination Ovens
Safety