Refrigeration Training Manual
The refrigeration manual was first published in 2oo2. lt was updated in 2oo8 in the Second Edition, in July 2O1G the Third Edition, and in 2o18 the Fourth Edition.. The Fifth Edition is being released now in 2o22. lt contains 75o pages of the most up to date information, filled with color illustrations and wiring diagrams.
It covers more up to date information than any other source dedicated to commercial refrigeration training. Everything is covered in an easily to understand format, dedicated to the practical side of service training, to easily understand the subject matter This manual contains unique troubleshooting techniques, with unique forms to record the information needed. Vou will learn how to use the information you recorded to troubleshoot the problems in the system, not just the one that might be the most obvious.
There are sections that cover every refrigerant found in commercial refrigeration units You will n find chapters covering the newest Hydrocarbon refriperants (Propane, Butane) currently used in production, as well as the new Hydrofluoro-olefin refrigerants which are much safer that the Hydrocarbons. It includes information regarding which refrigerants can be retrofitted for refriperants that are beinp phased out.
This new edition includes the new variable refrigerant flow, and variable speed compressors, and full explanations and details on automated Masterbilt and Beacon walk in box control systems. It also includes sections on installation and troubleshooting walk-in boxes. Sections were added for Ice Cube Machines. and Blast Freezers. Many of the other chapters have been updated especially the chapters on EPA requirements and safety.
At the end of each section you will find review questions, with the answers shown in the back of the book.
CHAPTERS INCLUDED
Basic Terms and Conditions
Basic Refrigeration Cycle
Refrigerants
Evaporators
Condensers
Refrigerant Control Devices
Compressors
Refrigerant Oils
Moisture and Driers
Sight Glasses
CPR and EPR Valves
Refrigerant Piping
System Evacuation
Receiver Tanks
Head Pressure Control
Electric Controls
Defrost Cycles
Refrigerant Leak Detection
Charging Systems
Suction Heat Exchangers
Suction Accumulators
Oil Separators
Refrigerant Recovery
Servicing Hydrocarbon Refrigerant Systems
Troubleshooting Refrigeration Problems
Special Walk In Box Controls (Beacon & Masterbilt)
Special OEM Commercial Reach In Controls
Refrigerant Circuit Protection Problems
Blast Freezers and Chillers
Ice Machines
Walk In Boxes
Safety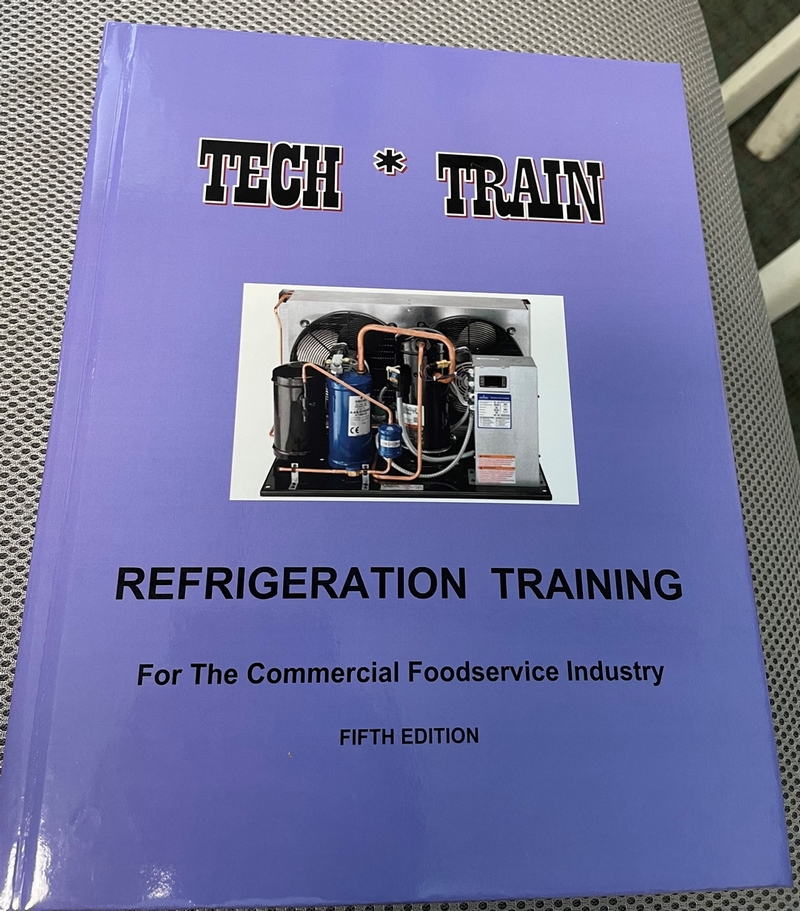 Basic Refrigeration Terms & Definitions
Basic Refrigeration Cycle
Refrigerants
Evaporators
Condensers
Refrigerant Controls Devices
Compressors
Refrigeration Oils
Moisture and Driers
Sight Glasses
CPR and EPR Valves
Refrigerant Piping
System Evacuation
Receiver Tanks
Head Pressure Control
Electric Controls
Defrost Cycles
Refrigerant Leak Detection
Charging Refrigeration Systems
Suction Heat Exchangers
Suction Accumulators
Oil Separators
Refrigerant Recovery
Servicing Hydrocarbon Refrigerant Systems
Special Walk In Box Control Systems
Troubleshooting Refrigeration Problems
Special OEM Commercial Refrigeration Controls
Refrigerant Circuit Protection Problems
Safety
Answers to Review Questions