Tech Train Electrical Manual
The Electrical Manual was first published in 1995. The Second Edition was released in 2008 and has 460 Pages and is full of color illustrations.
The manual covers all the information that a technician servicing commercial cooking or refrigeration equipment needs to know about electrical issues. Everything is explained in an easy to understand format, with practicality in mind, in order to understand the subject matter. At the end of each chapter are review questions to ensure that you understand the subject matter. Answers to the questions are in the back of the book.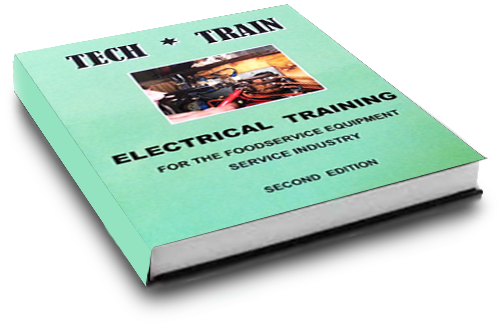 Basic Electricity Terminology
Series and Parallel Circuits
Alternating Current Power Supplies
Grounding
Short Circuit Analysis
Electric Wire
Electrical Connectors
Switches
Fuses
Circuit Breakers
Relays and Contactors
Signal Lights
Transformers
Caps and Receptacles
Heating Elements
Temperature Controls
Liquid Level Controls
Timers
Wiring Diagrams
Capacitors
Diodes and Triacs
Motors
Electrical Meters
Safety